Nature lovers unite! If you were looking for outdoor adventure, then it is no wonder why you ended up in Hidalgo County, Texas! From the Santa Ana National Wildlife Refuge to spending time on the ranch, this county has all your outdoor needs. When you decide you want to go out, though, there's plenty of nightlife with bars, comedy clubs, and movie theaters—you'll never get bored! To get to all the outdoor activities and fun nights out, you'll need to travel down the roadways and highways. If you received a Texas traffic ticket through all the adventures, don't stress! Our Hidalgo County Defensive Driving program is perfect for all motorists.

Why Choose Texas Online Defensive Driving
Fitting into every schedule, our class is done completely online, allowing you to log off and on the course whenever you please! Additionally, our Texas Defensive Driving course is compiled with the latest material, eye-catching graphics, and innovative interactive videos. Want more could you want?
Since 1996, our online defensive driving program has been dismissing moving traffic violations and giving motorists the peace of mind they need. Here are some of the reasons that drivers choose our Hidalgo County Defensive Driving course to dismiss their Texas traffic tickets:
Friendly and knowledgeable staff members
Live customer support available 24/7
No hidden fees
Multiple chances to pass
No classroom attendance required
Secure website
And more!
With over 17 years of dismissing traffic tickets under our belts, we know exactly what you want and need when dismissing your violation. In addition, our Hidalgo County Defensive Driving course only takes three (3) steps to finish! All you need to do is:
Take the course at your own pace.
Present your completion certificate to the appropriate Texas Municipal Court.
There's nothing to it! Join over four (4) million motorists who have dismissed their traffic violations with our online course. Register today!
Hidalgo County Defensive Driving Service Areas
Hidalgo County Defensive Driving is approved for all towns and cities in the County of Hidalgo.

Don't see the area you received your Texas traffic ticket in Hidalgo County listed above? Not a problem! We are approved for all Texas Municipal Courts in the county!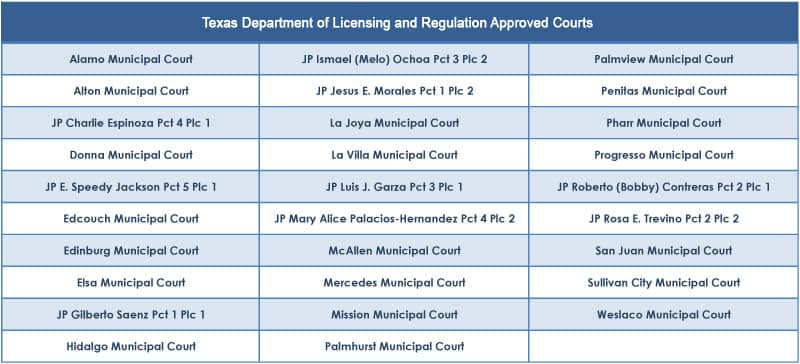 Hidalgo County Defensive Driving Tools
Need to find more information concerning your Texas traffic ticket and taking Hidalgo County Defensive Driving? The following website links may be beneficial for you!
When finding all the information you need regarding the Texas Municipal Court system and State of Texas, you may run into a bump or two. That's why we have provided a list of web links to help you locate the information you are looking for!
Texas Defensive Driving Course in a Different County
Did you find that you need to dismiss your Texas traffic ticket in a different county? Don't worry! Our online Texas Defensive Driving course is approved for all 254 counties in the Lone Star State! No matter where your traffic violation is from, you can still participate in our driver safety class online.
Fort Bend County
Jefferson County
Collin County
Denton County
Don't waste time finding another traffic school. Click Here to view a list of all the counties approved in Texas!