Defensive Driving San Antonio Course
Defense! Basketball fans anyone? Then Bexar County is the perfect place for you! Home of the San Antonio Spurs, thousands of fans commence here every year to support the local team. If you're not a fan of basketball, however, then feel free to explore the rest of the county! From daytime trips to The Alamo and beautiful nights at the River Walk, Bexar County draws the eyes of many travelers. Because this county is the fourth most populated in the state of Texas, the streets and roadways within the county can become tightly packed. With high stress during basketball season and busy streets year-round, getting a Bexar County traffic ticket is not unheard of. Your best option now would be a defensive driving San Antonio Texas course.

Why Choose Texas Online Defensive Driving?
Fortunately, there is a way to relieve stress of receiving a traffic violation: promptly clearing it with our Defensive Driving San Antonio course! Our program is done entirely from your home or anywhere you have Internet access and a web-enabled device, so you can either do the Texas online defensive driving course on the go or on your favorite couch. Don't waste time going to a classroom for defensive driving in San Antonio anymore!
Additionally, our online course offers all that you will need and want in a defensive driving Texas school:
Live customer support 24/7 through online chat
FREE certificate processing
State-approved by the TDLR for all Texas Municipal Courts in Bexar County
No classrooms
No hidden fees
Friendly staff members who are well-educated
Log on and off when convenient for you
And more!
Filled with eye-catching graphics, up-to-date statistics and material, and interactive videos, our online defensive driving San Antonio course makes removing your traffic violation entertaining and easy! For those who don't have a Bexar County traffic ticket, but are looking for an insurance discount, our easy course for defensive driving in San Antonio is perfect for that as well! Once you are complete with the San Antonio defensive driving course, you will need to present your completion certificate to your insurance provider.
Since 1996, millions of motorists have flocked to our online courses because of our easy program set-up. With only six (6) chapters in our entire online TX Driving School, this defensive driving San Antonio program is a breeze to complete. Join over four (4) million motorists who dismissed their citations through our defensive driving San Antonio Texas course today by Registering Now.
Bexar County Defensive Driving Service Areas
Here are all the approved Texas Municipal Courts for which you can take San Antonio defensive driving.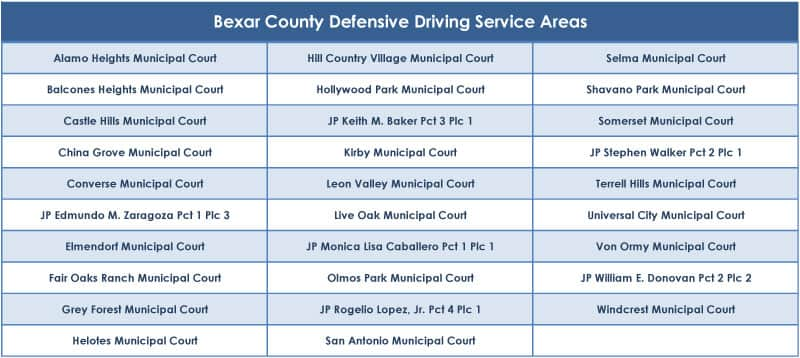 Bexar County Defensive Driving Web Links
Do you need to find more information regarding Texas Municipal Courts in Bexar County or look up more information regarding your Bexar County traffic ticket? The links below will assist you in searching for what you need.
Looking for more information regarding the court systems and state rules or regulations? Look no further! We have provided a useful website tools that will help you locate the information you want.
TX Driving School in a Different County
In a large state like Texas there are multiple cities and counties where you can get a citation, it can be hard to decipher where you need to take the TX driving school. If you realized you need to take TX driving school for a county other than Bexar, don't worry! We are a state-approved course for all counties and Texas Municipal Courts! Below are a small handful of the 254 counties for which we are approved:
Jefferson County
Galveston County
Montgomery County
Nueces County
Cameron County
For a complete list of approved defensive driving Texas Counties, Click Here.